All publications
Presse release
03 December 2018
SOFIPROTEOL supports PARQUEST CAPITAL in the acquisition of SOPRAL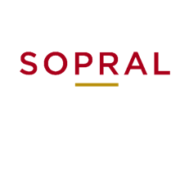 Paris, 30 November 2018 — PARQUEST CAPITAL has completed its purchase of SOPRAL from the AVRIL Group.
This operation means that PARQUEST CAPITAL becomes the majority shareholder in SOPRAL, working alongside its current management team.
Through SOFIPROTEOL, its finance and development company, the AVRIL Group becomes a minority shareholder in SOPRAL and will therefore continue to support the future development of the company in high-growth markets.
In addition, IDIA CAPITAL INVESTISSEMENT, AGRO INVEST and UNEXO now hold minority stakeholdings in SOPRAL.
Founded in 1957, and an AVRIL subsidiary since 2010, SOPRAL is a French company specialized in the formulation, production and sale in more than 50 countries of innovative nutritional solutions for dogs, cats and horses.
Based in the Ille-et-Vilaine Department, France, SOPRAL operates two production units in Pléchâtel and administrative offices in Pont-Réan.
For Yannick GUEHO, SOPRAL's General Manager: "In recent years, Sopral has achieved considerable growth in its pet nutrition activities, and notably its top quality products. Today, the company has reached an important stage that should enable it to accelerate its development in a global market that is currently seeing consolidation."
Jean-Philippe PUIG, CEO of the AVRIL Group continues: "We were looking for a specialized partner capable of supporting Sopral's plans for development, working with its management and Sofiprotéol. We share the same values with Parquest Capital and are convinced that this operation offers all the conditions necessary to successfully drive Sopral's growth."
For Denis LE CHEVALLIER, Partner at PARQUEST CAPITAL: "We are delighted to be able to provide support to the management team alongside our partners for its plans for development, both in France and internationally. We are sure that the quality of Sopral's products and its premium positioning will enable the company to accelerate its growth."
Details of the financial arrangements for this operation have not been made public.
About PARQUEST CAPITAL
Set up in 2002, Parquest Capital is an independent investment firm with a well-established franchise on the French mid-market segment. Since its creation, Parquest Capital has achieved 25 investments under a philosophy of providing long-term support for projects with ambitious growth prospects, working alongside their management teams. In 2017, Parquest Capital successfully raised € 310 M for its second fund since it gained independence from the ING Group in 2014.
For more information: www.parquest.fr
About SOFIPROTEOL
Created in 1983 at the initiative of farmers, SOFIPROTEOL is the finance and development arm of the AVRIL Group and has since provided support for companies in the agro-industrial and agri-foodstuffs sectors. A sustainable partner, SOFIPROTEOL offers long-term support for these companies and French agribusiness in general, notably regarding consolidation of their own funds during development or investment operations designed to enhance their competitiveness. From credit to equity funding, the financial solutions offered by SOFIPROTEOL are based on an industrial and entrepreneurial approach to supporting growth and innovation at all levels in the agro-industrial and agri-foodstuffs sectors: from upstream agricultural production (seeds, genetics, agricultural supplies, etc.) to downstream (agro-industrial and agri-foodstuffs), and including initial processors and grain elevator operators.
For more information: www.sofiproteol.com
About the AVRIL GROUP
Founded in 1983 at the initiative of French farmers in order to assure long-term markets for French products, Avril is the industrial and finance actor of the French oilseeds and proteins sectors. It is present in France and internationally in sectors as diverse as human foods, animal nutrition and expertise, renewable energies and chemistry.
In nearly 35 years, the Group has changed in size but its purpose has remained the same: to create sustainable value in the vegetable oils and proteins sectors while contributing to better foods for humans and preservation of the planet.
To fulfil its mission, Avril draws strength from its industrial activities organized around plant production and livestock sectors, and from its investment activities operated through Sofiprotéol its finance and development arm which works to serve the French Farm.
In 2017, the Avril Group achieved turnover worth €6.2 billion. It counts 7600 employees working in 21 countries.
For more information: www.groupeavril.com | Twitter: @Avril
Vendor & Management consultants
Vendor: Avril Group (Thomas Lemaître – M&A, Thomas Mouzin – Legal)
Investment bank: Capitalmind (Nicolas Balon, Thibault Laroche-Joubert, Christopher Martin, Florian Galizia)
Management legal advisors: Hogan Lovells (Stephane Huten, Laurent Ragot, Paul Leroy, Ali Chegra)
Vendor legal advisor: CRB Avocat (Carine Rohou-Borsello)
Vendor due diligence – financial: Deloitte (Philippe Serzec, Jade Mati, Roxane le Saux, Jean-Gaël Chaize)
Vendor due diligence – tax: LightHouse (Damien Hautin, Marie de Reinach)
Vendor due diligence – environmental: EY (Christophe Schmeitzky, Maelle Duquoc)
Purchasers & their advisors
Purchasers:

Parquest (Denis le Chevallier, Thomas Babinet, Camille Coutelet)
IDIA Capital Investissement (Arnaud Pradier, Manuel Leal, Martin Mézières)
Agro Invest (Olivier Guize, Delphine Nicolas-Tucou)
Sofiprotéol (Claire Maingon, Violaine Grison, Claude-Emma Komly)
UNEXO (Maryan Deroo)

Investment bank: Sodica (Xavier Boeri)
Due Diligence:

Legal advice: Goodwin (Thomas Maitrejean, Mathieu Terrisse, Hind Badreddine, Adrien Paturaud, Benjamin Filiatre)
Financial audit: 8Advisory (Katia Wagner, Thomas Wolff)
Carve out: 8Advisory (Nicolas Cohen-Solal, Jean-Christophe Fuzzati)
Tax audit: Mamou & Boccara (Laurent Mamou, Elie Boccara)
Strategic audit: Alcimed (Thomas Paschal, Vincent Genet)
Field study: Richard & Campion (Raphaël Campion, Vincent Richard)
Evaluation of financial instruments: NG Finance (Jacques-Henri Hacquin, Ghislain d'Ouince)
Financing
Mezzanine: Tikehau Capital (Cécile Mayer-Lévi, Aymeric Martin, Romain Hernot) – legal advisor: De Pardieu (Yannick Le Gall, Jean-François Pourdieu, Sonia Bouaffassa, Eryk Nowakowski)
Senior debt: Banque CIC Ouest (Bruno Nesti, Abdoulaye Sall), Crédit Agricole d'Ille et Vilaine (Vincent Larnicol, Christophe Galerne), ARKEA (Isabelle Bouedo), CEBPL (Sophie Cudel) – legal advisor: CMS Francis Lefebvre (Benjamin Guilleminot, Benoît Fournier, Julia Dallié, Jean-Charles Benois, Alexia Cayrel)
Press contacts:
PARQUEST CAPITAL:
Capmot / Jean-Philippe Mocci – Tel.: +33 (0)1 81 70 96 33
jpmocci@capmot.com
| + 33 (0)6 71 91 18 83
AVRIL GROUP:
Tom Doron – Tel.: +33 (0)1 78 14 80 09
tom.doron@groupeavril.com
| + 33 (0)6 26 28 39 94