All publications
Presse release
11 December 2017
Successful closure of the first fundraising round by Sofiprotéol Dette Privée which has obtained commitments worth €205 million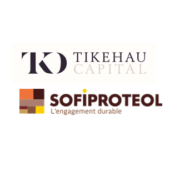 Sofiprotéol and Tikehau Capital have announced the final closing date for the Sofiprotéol Dette Privée economic development loan fund, having obtained commitments worth €205 million.
Managed by Tikehau IM, the fund is designed to support companies of all sizes in the agribusiness and agrifood sectors through interest-only loans or by financing acquisitions. The fund supplements the financing tools proposed by Sofiprotéol, a finance and development company.
Since its launch, the fund has invested in 13 companies.
For Michel Boucly, Deputy CEO of Sofiprotéol: "The success of this fundraising validates investor interest in the agribusiness and agrifood sectors. Furthermore, the wealth and quality of the pipeline confirms the relevance of a unique partnership that combines the financial expertise of the French leader in private debt, our sectoral expertise and our network."
According to Guillaume Arnaud, Managing Director of Tikehau IM: "This partnership with Sofiprotéol illustrates Tikehau Capital's strategy of providing sustainable support for companies in an essential industrial sector in Europe and of contributing to its economic fabric by providing industrial know-how and not just cash."
About Tikehau Capital:
Tikehau Capital is an asset and investment management group which manages assets worth €12.6 billion and has €2.3 billion equity. The Group invests in different types of assets (private debt, property, capital investment, liquid strategies), notably through Tikehau IM, its asset management subsidiary which operates on behalf of both institutional and private actors. Controlled by its management, alongside leading institutional partners, Tikehau Capital counts 185 employees at its offices based currently in Paris, London, Brussels, Madrid, Milan, Seoul and Singapore.
Tikehau Capital is quoted on the regulated Euronext market in Paris, Compartment A (ISIN code: FR0013230612; Ticker: TKO.FP)
www.tikehaucapital.com
About Sofiprotéol:
Set up in 1983 at the initiative of French farmers, Sofiprotéol, a finance and development company and subsidiary of the Avril Group, provides support for firms in the agribusiness and agrifood sectors.
As a sustainable partner, Sofiprotéol provides long-term support for companies in the sector and more generally throughout the French agribusiness industry, notably to consolidate their equity during development or investment operations designed to enhance their competitiveness.
From credit to equity, the funding solutions proposed are based on an industrial and entrepreneurial approach and can support the development of innovation at all stages in the agribusiness and agrifood sectors: from agricultural production upstream (seeds, genetics, agricultural supplies, etc.) to industry downstream (agribusiness and agrifood sectors), and including collection agencies and first-stage processing operations.
www.sofiproteol.com
About the Avril Group:
Founded in 1983 at the initiative of French farmers in order to assure long-term markets for French products, Avril has the industrial and finance actor of the French oilseeds and proteins sectors.
It is present in France and internationally in sectors as diverse as human foods, animal nutrition and expertise, renewable energies and chemistry, through a portfolio of strong brands that are leaders in their markets: Diester®, Sanders, Lesieur, Puget, Matines, Bunica, Taous, etc.
In nearly 35 years, the Group has changed in size but its purpose has remained the same: to create sustainable value in the vegetable oils and proteins sector while contributing to better foods for humans and preservation of the planet.
To fulfil its mission, Avril draws strength from its industrial activities organized around plant production and livestock sectors, and from its financial arm which operates through Sofiprotéol, its finance and development company.
In 2016, the Avril Group achieved turnover worth €5.9 billion. It counts 7200 employees working in 21 countries.
For more information: www.groupeavril.com | Twitter: @Avril
Contacts:
For Tikehau Capital
Florence COUPRY |+33 (0)1 53 70 74 70 | tikehaucapital@image7.fr
For Sofiprotéol
Tom DORON |+33 (0)1 78 14 80 09 | tom.doron@groupeavril.com