All publications
Presse release
09 September 2014
Creation of CapAgro Innovation
Creation of CapAgro Innovation, the first venture capital fund in France dedicated to agronomy, farming, the food industry, nutrition and the industrial and energy exploitation of biomass.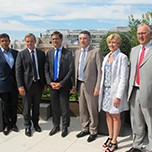 CapAgro involves five leading industrial groups and financial institutions with a strong commitment to sustainable development and the world of agriculture: Sofiprotéol, Tereos, Bpifrance, Crédit Agricole (through its subsidiary Crédit Agricole Capital Investissement & Finance, CACIF) and AG2R-La Mondiale.  CapAgro Innovation is the first venture capital fund dedicated to agronomy, farming, the food industry, nutrition and the industrial and energy exploitation of biomass.
By covering the whole agricultural sector, CapAgro Innovation will be able to support projects linked to some of the most important challenges the world faces at present:
A contextual change in agricultural production: an abrupt rise in protein prices, less use of medications by livestock farmers, precision agriculture, big data for agronomy, and inputs and plant health products that are more respectful of ecosystems and biodiversity,
A shift from a food industry that focuses on abundance to one which is committed to offering tailor-made health benefits and nutritional quality,
Exploitation of the ability of plant and animal production – terrestrial, marine or biotechnological – to offer an economical and sustainable alternative to raw materials of fossil origin (green chemistry, bioprocesses, materials, etc.),
The valorisation of by-products and waste from industry to drive a circular economy.
Endowed with initial funding of €37 million – which should ultimately reach €60 million – CapAgro Innovation will take capital stakes of between €1 million and €5 million in around fifteen innovative companies involved in material recycling, plant proteins and plant chemistry or the exploitation of marine resources, three of the seven ambitions identified by the French Commission Innovation 2030. These companies will mainly be based in France and Europe.
Since 15 April, the closing date of the first funding round, more than 90 submissions from innovative companies seeking capital backing and meeting the required criteria have been received by the management team, thus confirming the legitimacy of such a fund.  More than ten of these submissions are currently under detailed investigation which could rapidly lead to an investment.  The quality and diversity of these projects allow the team to be confident about meeting its investment targets of taking a capital stake in an average of three or four companies each year, in compliance with stringent requirements and very strict selection criteria.  This selection, and the close involvement of CapAgro in monitoring its stakeholdings, should enable the fund to reconcile financial performance and the stimulation of innovation in its targeted sectors.
The first investment was made in July 2014 in the form of a €1.5 million stake in LineaZen, in the context of a €2.4 million pool. Set up in 2010, LineaZen is an innovative French company that develops proprietary systems for high performance wood constructions based on cross-laminated timber made of bamboo or beech.  These systems are designed for the construction of housing, offices and industrial units.  CapAgro played a leading role in this investment round and will be represented on the company's Board.
CapAgro Innovation is managed by CapAgro SAS, which is a new portfolio management firm specialised in venture capital investments in biomass-related sectors that was accredited by the AMF in the spring of 2014 and resulted from the impetus and funding provided by Sofiprotéol, Tereos and Bpifrance. Other institutions, companies and family offices are expected to subscribe to CapAgro Innovation during the coming months.  CapAgro is a socially responsible investor and will take account of Environmental, Social and Governance criteria (ESG) in all its investment decisions.
The CapAgro Innovation management team is led by Jean-Baptiste Cuisinier and Jérôme Samson, two specialists in capital investments with complementary experience and skills:
Jean-Baptiste Cuisinier was previously co-founder and Board member of Agro Invest, a structuring fund for the food industry worth €98 million.  Before that, he had set up several SME, managed business units for industrial groups, headed a public higher education and research establishment and was a member of the French Minister of Agriculture's cabinet.
Jérôme Samson has spent the past seven years working in leading venture capital organisations, after early experience as a management consultant.
Both share the scientific and technical skills that are essential in the context of venture capital investment.
---
Press contact
For CapAgro: Sylvie Conan-Charvin :
s.conan.charvin@ylbconseil.fr
Tel.: 01 44 82 85 92 – 06 19 92 54 78
In recent years, companies working on the production and transformation of biomass have suffered from a lack of investment in innovation.  This deficiency has been particularly marked in the segment of young enterprises and start-ups. However, such companies can drive sustainable development, in most cases cannot be relocated and are markedly counter-cyclical, and thus of strategic importance to both France and Europe. The creation of CapAgro Innovation will provide us with an opportunity to support them.
About Sofiprotéol 
Sofiprotéol is the industrial and financial arm of the vegetable oils and proteins sector.  Its mission is to create sustainable value in this sector by contributing to better foods for humans and preservation of the planet. Sofiprotéol focuses on agribusiness activities in its two Divisions: the Oilseeds Division (oilseed crushing, refining, the packaging of edible oils, the production of biodiesel and oleochemistry) and the Animal Products Division (animal nutrition, hygiene, biosecurity, nutritional specialities and food products: pork, poultry and eggs).  The Group is also active financially through its Development Bank: in 2013, its loans and minority stakeholdings provided support for 140 companies in the sector. Sofiprotéol's turnover in 2013 was €7 billion, and it currently employs 8240 people in some twenty countries.  Website: www.sofiproteol.com
About Tereos
The fifth largest sugar producer in the world, Tereos specialises in the processing of sugar beet, sugar cane and cereals.  The Group also holds leading positions in the alcohol (no. 1 in Europe and no. 3 in Brazil) and starch (no. 3 in Europe) markets.  Tereos operates 42 industrial sites and employs 24,000 people on four continents. In 2013/14, the Group achieved turnover worth €4.7 billion.
As a cooperative group, Tereos brings together 12,000 cooperative associates with a shared long-term vision: to add value to agricultural raw materials and contribute to the supply of high-quality food products.




About Bpifrance
Set up under the French law of 31 December 2012, Bpifrance (a public investment bank) resulted from the merger of OSEO, FSI, CDC Entreprises and FSI Régions. Its two shareholders are the French State and the Caisse des Dépôts. Its vocation is to provide support to enterprises (SME and larger entities of strategic importance to the French economy), from start-up to quotation on the stock exchange, in terms of credit, guarantee and equity.  Bpifrance  also provides advice and support services for innovation, export and external growth.  Benefiting from 42 regional offices, it constitutes an unique and local interlocutor for entrepreneurs with respect to their funding and investment needs. www.bpifrance.fr Follow us on Twitter: @bpifrance
About CACIF
CACIF, a subsidiary of Crédit Agricole S.A., operates investments on behalf of its shareholder in unquoted companies via dedicated funds.
At the end of 2013, its overall balance sheet was worth €1.5 billion, the majority being entrusted for management by IDIA Capital Investissement (investments in food, agriculture and other sectors, majority and minority  holdings in viticulture, forestry groups and agricultural land). www.ca-idia.com
CACIF also provides services through SODICA Corporate Finance, which specialises in financial consultancy advice on transactions (small and mid-cap company mergers and acquisitions, Equity Capital Markets and intermediation). SODICA is the listing sponsor on Alternext for the Crédit Agricole Group. www.ca-sodica.com

About AG2R-La Mondiale
As a management company in the supplementary pensions, life assurance and insurance sector, AG2R LA MONDIALE offers a complete range of collective and direct insurance solutions to cover the needs of its subscribers throughout their lives. It thus insures nine million people and their beneficiaries. In 2013, it recorded income worth €17.6 billion from all its activities, and was employing 7693 people in France. www.ag2rlamondiale.fr/